Fiat Linea 125S Road Test Review
Fiat Linea made its debut into the Indian auto industry in early 2009. This car made big impact on the entry level saloon segment. The Linea was designed by Fiat Style Centre and co-developed by Tofaş. Fiat is known for manufacturing driver-oriented cars, no matter which Fiat car you drive, whether its an entry level hatchback or top notch saloon. They have always been the foremost to develop new, cutting-edge, next generation powerful engines for their cars and the T-jet engine is one of them. The motto of this Italian car manufacturer is 'A person who loves driving doesn't always want to go fast or far, he wants to enjoy the ride.' And yes, that's what you do while driving new Fiat Linea. This car is immensely pleasurable to drive, whether in the city or on the highway.
The new Fiat Linea is sheer Italian beauty, with perfectly sculpted body lines and curves around the corners making this car look elegant and sexy. Chrome trims on front and rear bumpers, front radiator grill, around the fog lamps and on doors give you feeling of a sophisticated lady dressed in dark clothes wearing jewelry. The lowered front looks aggressive, however an elegant touch has been added to it by the chrome grill. The raised tail gate looks sportier now. Complementing wind cutting aerodynamics of the car surely make a bold style statement. To match your taste, Fiat provides you with a 5 shade colour pallette with minimal gray, hip hop black, new pearl white and two new shades – magnesio gray and bronzo tan.
Fiat Linea has a lot to say for its cabin, which gives you homely feeling once inside. Simple, spacious, comfortable and cozy… just like at home. This car has got new leather perforated seats which are much softer and comfortable than before. These seats come in beige colour leather which looks great. Piano black trim around AC vents and center console looks amazing and complements the soft touch beige dashboard which gives the car a premium finish. At night, ambient light strip under dashboard adds up more detail to the interior of this car and also helps you to get to buttons and knobs on the center console.
Rear seats are fabulous and extremely comfortable due to the arm rest and rear AC vent. Booth opening switch on the upper right corner on center console is a plus in case of robbery, the booth doesn't open in absence of antitheft security coded key, even if someone breaks open the glass and tries to open the booth. It doesn't end here. With this aesthetic package come great safety too, with high tensile steel frame structure having crumple zone or reinforced body work and dual stage airbags with early crash sensors. These dual stage airbags open in two stages, first set juts open on impact and second at ease, to reduce the chances of casualties.
This car is equipped with smart Fiat's My Car system, which is a vehicle information computer offering customizable settings for user of the car… such as changing alarm buzzer, colour intensity of the display, information on external temperature, real time mileage indicator, distance to empty indicator, service schedule reminder, speed limit buzzer and front passenger airbag deactivation, if you travel with a toddler. These settings can be customized from steering mounted controls. This car is also equipped with cruise control to let you automatically control your speeds for greater comfort and better fuel economy.
Automatic head lamps turn on and off, lighting up your path automatically based on outside conditions. Which adds more comfort while driving on highways. It is also equipped with rain sensing wipers which automatically turn on when rain or any water droplets fall on your wind screen. The Fiat Linea 125S is now equipped with a 5-inch touchscreen navigation system which you can also control with steering mounted controls. The navigation feels a bit sluggish at start, but works flawlessly once its on the go. Powerful automatic AC keeps you cool and helps maintain desired temperature inside the cabin.
We drove the Linea Petrol with T-jet engine which is super powerful and fun to drive. This engine produces a whooping 125 PS @ 5000 RPM, which takes you from 0-100 in just above 9.5 seconds. And makes 208Nm of torque @ 2500-3000 RPM. All this power packed package which is extremely comfortable stylish and bold. But the last question is… kitna deti hai? Fiat claims 14 kmpl, which is fair enough for the turbo charged 1.4 T-jet engine. At the end you have to spend just 10 lakhs, which is a mouth-watering figure for all the above comfort and luxury. Overall, the new Fiat Linea 125S is good competition for its German and Japanese rivals.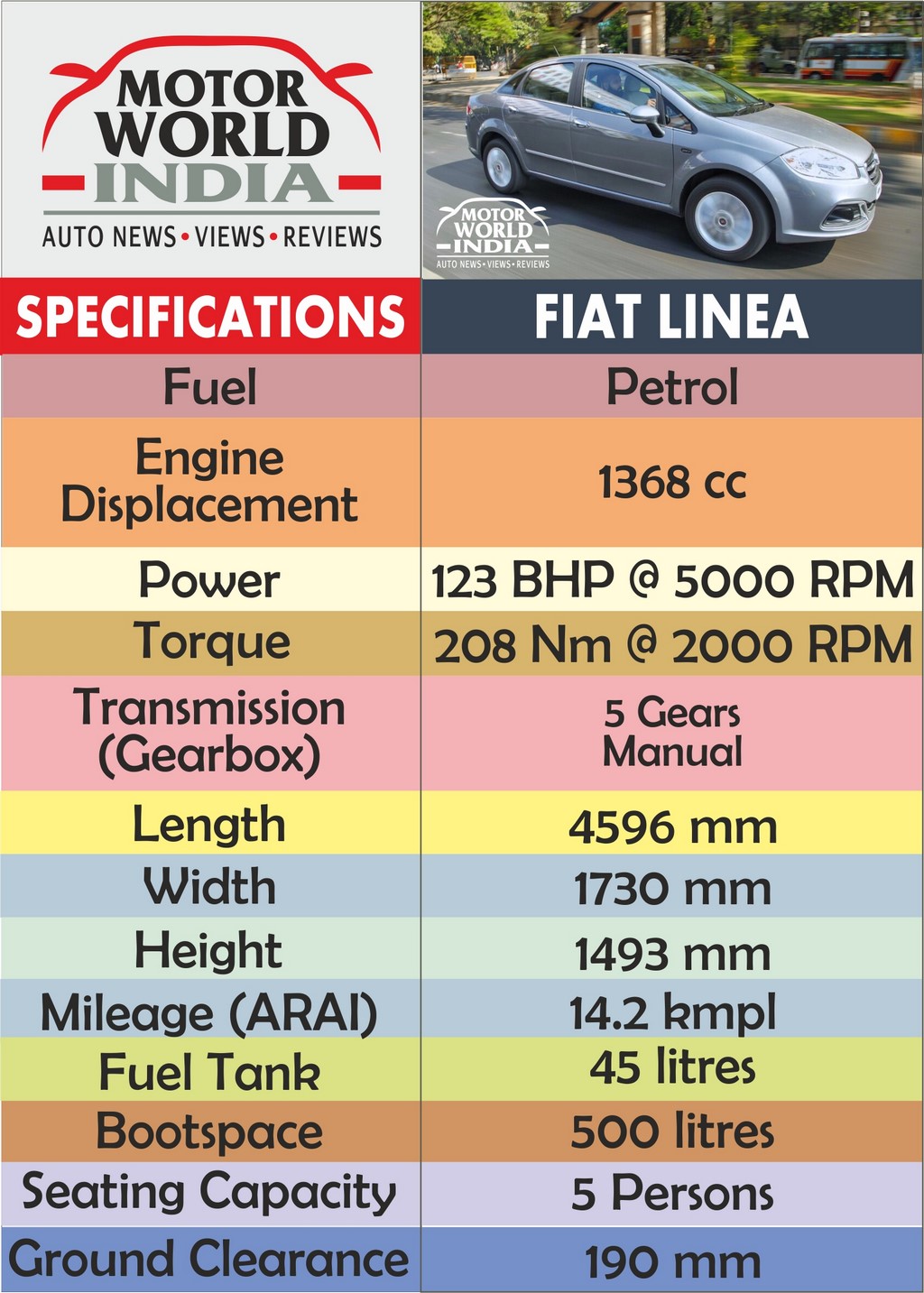 Fiat Linea 125S Photo Gallery:
[flickr_set id="72157679964802946″]