Royal Enfield unveils Sosa Metalworks Kamala custom motorcycle
The company's 650cc engine forms the heart of this motorcycle from Sosa Metalworks
We're used to ogling custom motorcycles. Some of them are too impractical to ride, but that only makes us love them more. Every once in a blue moon, however, comes along a custom build that's so pretty, you almost stop wondering if it even runs, never mind whether it is rideable.
The Sosa Metalworks Kamala is one such build. Cristian Sosa had made a name for himself working under the banner of Count's Kustoms, and formed his own company along with his brother in 2012. Sosa Metalworks differentiates itself with the intricacy of the metalwork it puts into its builds. The Kamala, for example, when inspected carefully, will show off hints of aluminium as well as brass in addition to the ubiquitous steel. The rigid frame is made of chromoly steel, and houses the 650cc Royal Enfield engine with downpipes that end abruptly under the crankcase. However, the angles are so perfect, you don't even realise where the pipes end and the frame continues. The front girder fork props up a handlebar with just a throttle grip on the right hand side.
The Kamala pays homage to board track racers from the early 20th century – these races were the precursors to the races held on banked oval tracks that are so popular in US motorsport today. As such, it runs skinny spoked rims, no brake at the front, and a big single disc brake with a twin piston calliper at the rear. It is a slim motorcycle, this, and that is reflected in everything on it – the tyres and wheels are thin, the tank is thin, the sprung seat is thin, and the spring suspending the seat is so impossibly thin, you usually miss it in photographs of the full bike. There is no airbox or filter marring the metalwork of this motorcycle; the throttle bodies are open to the air. There's no paint, there's no rear suspension, there's barely a seat and tank, and there's definitely no paint – and yet the Sosa Metalworks Kamala looks just as complete as some of the best custom builds we've seen.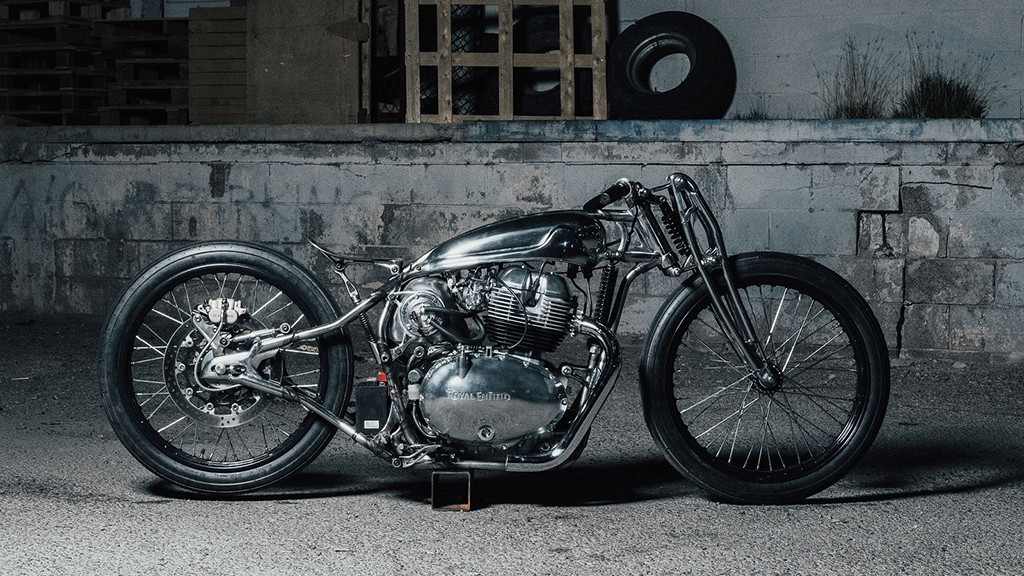 We aren't sure why Royal Enfield is 'launching' this custom motorcycle now – the Kamala won awards at the One Moto Show in Portland, Oregon, USA, in February (even though the build wasn't complete at that point!), and we're quite certain that you can't order one at your friendly neighbourhood Royal Enfield dealer. However, we can't say no to publishing photographs of a motorcycle this pretty, so here it is.