Forgotten Bikes of India #6 – Lamby Polo 150
When I took my bike for a routine check up, a couple of months ago at my friend's garage, I saw an old scooter parked in a corner obviously in a miserable condition. I guessed right away that it was brought here for some sort of major overhauling. After enquiring a bit, I got to know that the kick starter shaft had broken and was unable to start. At that very moment I decided to talk to the owner about the scooter, as I had never seen a scooter like that before.
I found out that Mr.Karandikar, the owner of the scooter, resides near my house. Without wasting much time, I decided to call him up and ask whether we could meet. Upon calling him, he agreed to meet me but seemed rather hesitant on the phone. We met and I started asking him all sorts of questions about the scooter and obviously he was not ready for it. After listening to me and my questions, he started narrating funny incidences which happened back in the day. He used to ride a bicycle to his work everyday, but meanwhile had started taking riding classes on a Lambretta which belonged to his friend. Finally, when it was time for him to buy his own ride, he decided to go for the obvious choice, a scooter.
In the late 80s, Lambretta was already out of production and the company was making scooters under the brand name Lamby. The latest offering at that point of time was Lamby Polo 150, quintessentially Lambretta at heart, but a modern looking scooter from the outside.
Mr.Karandikar bought the scooter new in 1986 for a mere sum of 10756/- Indian rupees, which was a lot of money back in the day. Lamby Polo 150, the final generation of scooters produced by API (Automobile Products of India) was a 148 cc single cylinder, 2 stroke engine. It had a maximum power of 6.5 hp at 5000 rpm and a dry weight of 117kg. This scooter was very different from the options available in the market which, at that point of time, was flooded with Bajaj scooters. From the time the scooter was home, he used it daily until sometime ago the engine decided to go kaput.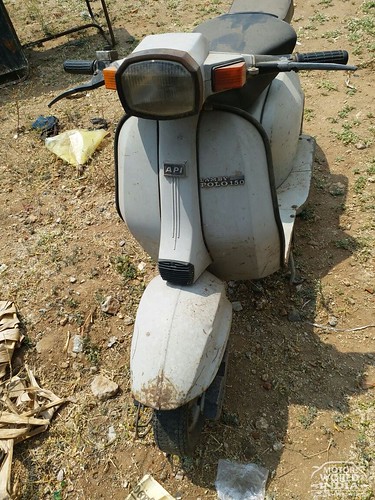 The scooter stood still for a long period of time due to lack of spare parts and a proper person who could repair it. Mr.Karandikar wants to get it running and if possible get it restored as soon as possible and ride it around the town as he used to.
After listening to this story, I came home and decided to do some research about this scooter, which I didn't know existed a couple of days ago. After searching a bit, I found out that it was launched in the year 1986 and production lasted till 1990. Lamby Polo 150 had some design quirks of its own, which include long body panels, a cut away portion at the rear side above the wheel and a vertically mounted spare wheel unlike the older Lambrettas.This particular scooter had turn indicators, rear view mirrors and a 12v electrical system. Ignition switch which also acted like an headlight on-off switch was considered innovative, but was very difficult to operate.
Overall this scooter was from the same stable of Lambrettas and Lamby 150s, but lacked that Italian charm. Today, this scooter is a rare sight on the roads and I really hope Mr.Karandikar gets his beloved scooter repaired so that it stays on the roads for decades to come.
Words by Aseem Joshi, our resident expert and vintage motorcycles fanatic,
Automobile Engineer by profession and a die hard vintage automobile enthusiast.
Aseem still rides his dad's 35 year old Yezdi that gives him more joy than any modern bike could ever give him.
Thank You Mr Vikas Karandikar, Akshay Karandikar & Lionel Ritchie for sharing your lovely Lamby Polo pics with us.