Live! 2017 Porsche 911 Launched In India At Rs. 1.42 Crore
Porsche India has launched the 911 range in India at Rs. 1.42 crore ex-showroom, Delhi. The range topping 911 Turbo S Cabriolet has been priced at Rs. 2.81 crore.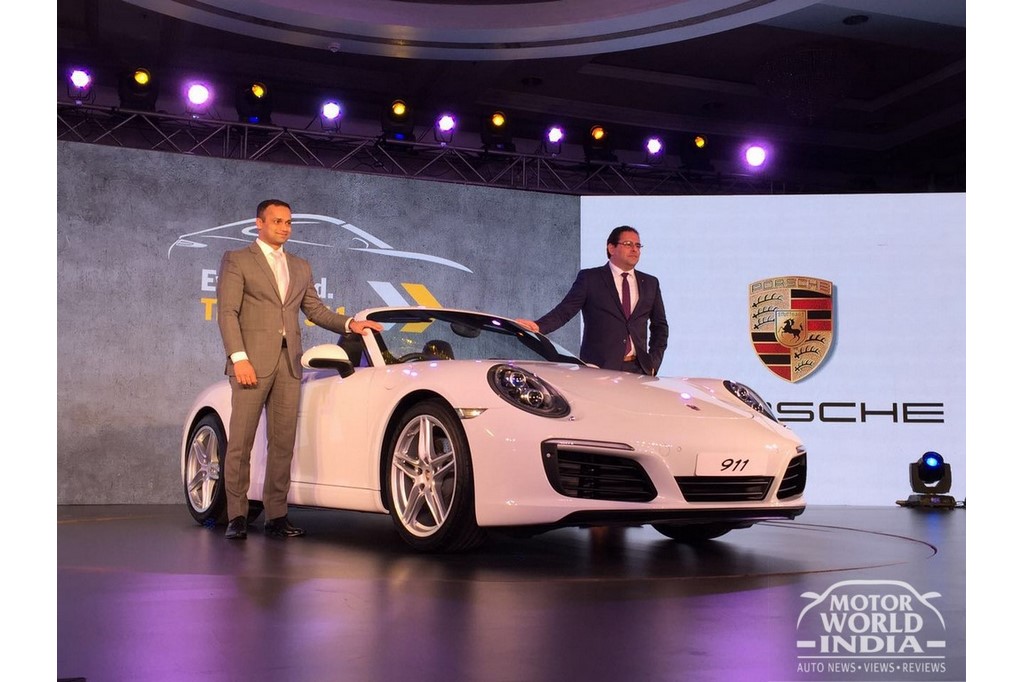 Porsche, the German sports car maker is mostly for its iconic 911 range. It all started in the year 1963 when the first 911 (1963-1989) and the 930 (1975-1989) was launched. This was followed by the 964 (1989-1994), 993 (1995-1998), 996 (1999-2004), 997 (2005-2011), 991 (2012-2015) and the latest iteration of the 991, the 992 (2016-Present) which has been launched today. The 911 is also available with a whole range of body styles and variants – Carrera, Carrera 4, Targa, Targa 4 and Turbo. All models except the Targa and Targa 4 have been made available in India with a cabriolet variant too. Porsche India has launched the Carrera, Carrera S, Carrera Cabriolet, Carrera S Cabriolet, Turbo, Turbo S, Turbo Cabriolet and the Turbo S Cabriolet.
The Porsche 911 Carrera is powered by a 3.0-litre twin turbocharged 6-cylinder boxer engine that develops 370 PS and hits 100kmph in just 4.8 seconds. The 911 Carrera S on the other hand develops more power from the same engine at 420 PS. Both will be available only with a 7-speed PDK dual clutch gearbox in India. The Porsche 911 Turbo is powered by 3.8-litre twin turbo 6-cylinder engine that develops 540 PS and gives it a top speed of 320 kmph. Mated to the 7-speed PDK box and the optional Sport Chrono pack it will do a 0-100 kmph run in 3 seconds flat.
The 911 Turbo S gets even more power from the same 3.8-litre engine and is rated at 580 PS. It is mated to a 7-speed PDK transmission and goes on to a top speed of 330 kmph with the ton coming up in just 2.9 seconds. The Turbo S also gets active rear wheel steer that turns the rear wheels in the direction of the front wheels or opposite way depending on the speed of the car. On the insides, the Porsche 911 gets a steering wheel from the 918 Spyder, a touchscreen infotainment system and a familiar but modern interior layout layered in high quality Alcantara leather. Porsche India currently has showrooms in Mumbai, Bengaluru, Gurgaon, Kolkata, Kochi and Ahmedabad.
2017 Porsche 911 Price List (Ex-showroom, Delhi):
911 Carrera: Rs. 1.42 crore
911 Carrera Cabriolet: Rs. 1.55 crore
911 Carrera S: Rs. 1.63 crore
911 Carrera S Cabriolet: Rs. 1.76 crore
911 Turbo: Rs. 2.25 crore
911 Turbo Cabriolet: Rs. 2.39 crore
911 Turbo S: Rs. 2.66 crore
911 Turbo S Cabriolet: Rs. 2.81 crore
2017 Porsche 911 India Launch Photo Gallery: